Carp Fishing is one of the most entertaining kind of fishing around Europe. All you need is the right equipment, making the connection between you and the fish you just caught reliable is what our products are designed for. Therefore, various carp fishing rigs has been derived. Such as Helicopter Rig,Chod Rig,D Rig,Hair-Rig and so on.To make these rigs more convenient and you need reliable accessories. Such as Rolling Swivel, Large Eye swivel, Flexi ring swivel,Quick chang Swivel,Quick link clip…..,Not only do they look good, they also make you look good as well – each is finished with a matt black coating and designed specifically for carp fishing. You will never look back once you get one of our swivels, the range we offer is wide and specifically made for your enhanced experience.
Large Eye Swivel: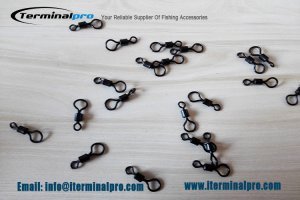 Our Large Eye Swivels feature highly polished, precision stainless steel ball bearings, in conjunction with tapered bearing surfaces that combine for a smooth, effortless spinning action. Large eye on one end to accommodate a larger split ring for larger blades. Just swirl and reach out!
Flexi Ring Swivel:

These are versatile and at the same time offer much room, they allow you a number of amenities. Not only are you instantly able to replace a hook link or lead but you can do it without the need for having to re-tie rigs. The main feature is the flexibility they offer adding an additional ring, in fact these are the perfect kind of swivels when you want to fishing with hinged stiff rigs.
Quick Change Swivel:


The carefully shaped fitting allows easy attachment and detachment of rigs from mainline without the need to tie any knots.  Due to the shape of the quick change mechanism no rubber is needed to keep the rig secure or to prevent it coming off whilst casting.  An excellent swivel for Helicopter style presentations or Chod Rigs. Fun to use and even more fun to set, be ready!

Chod Ring Swivel: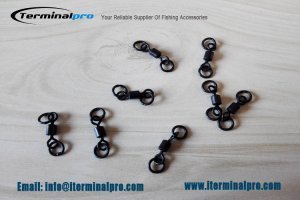 Sinking a chod rig has just become simple, no more molding putty around swivels and wondering whether it's still on in colder temperatures. Our new Chod Ring Swivel has been developed to sit snug over the knot and swivel ring of the chod link, weighting it perfectly to critically sink buoyant pop-ups and can be fine-tuned even further by shaving them with a blade if necessary. You just need to have one!
Yangzhou Terminalpro Imp.&Exp. Co., Ltd supplied these products have been 10 years.Good quality and excellent after-sales, let us get to know more European customers. If you  interesting to import from china,please contact us.